Being good at "The process" is not good enough! Today, the modern manager needs to be good human being, creative, inspiring, motivating and have great interpersonal and people skills. In Leadership Development Programme SMS is providing just that; we specialize in helping managers/entrepreneurs to acquire skills, behavior and competencies to be able to drive performance through their teams in a motivating and empowering way.
We can help your managers to ……….
Transform themselves into "integrated human beings"
Tackle performance issues more effectively
Motivate and build their teams into high performing units
Coach and develop their staff regularly and consistently
Lead and implement their aggressive change agenda
Delegate work in empowering way
Improve their soft skills - working with others to achieve results
Develop world-class organizational culture
About the Programme
The Leadership Development Programme embraces three modules: Leadership Concepts, Leader as Integrated Human Being and Leadership Functions respectively.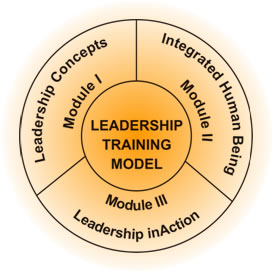 Module I: Leadership Concepts
Following concepts would be dealt in detail:
Complementary Leadership and Managerial Approaches
Visionary Leadership
Transparent Leadership
Nurturing Leadership
Empowering Leadership
Module II: Leader as Integrated Human Being
Before Performing Leadership Roles in the organization it is imperative to learn leader's traits and develop emotional intelligence. This module is concentrating on following dimensions:
Leader Vs Non leaders
Signature Strengths
Emotional Intelligence
Module III: Leadership Functions
This module focuses on various leadership functions shown in the diagram of the module.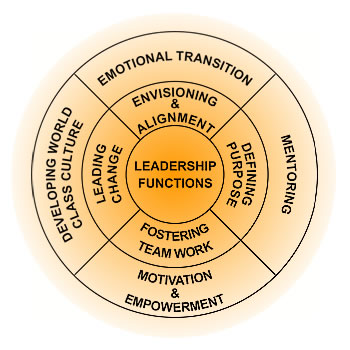 Training Time Required: 12 sessions in 6 full days