Life expectancy of people increasing but of companies is decreasing. One third of the companies listed in the 1970 fortune 500 had vanished by 1983. They had been acquired, merged, or broken into pieces. A Dutch survey showing the average corporate life expectancy in Japan and Europe was 12.5 years. (Declining like 45 to 18 years in Germany, 13 to 9 years in France, and from 10 to 4 years in Great Britain). The basic reasons behind financial decline are corporate culture and core values that serve a company best in times of volatile change. Southwest CEO James Parker says, "we focus on corporate culture more than anything else we do".

This programme is designed to develop competencies for organizational development. Participants will learn the following: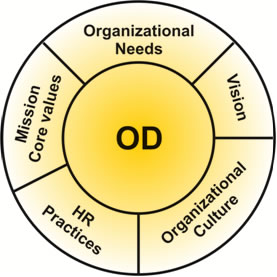 How to develop healthy organization so that it can survive even in extreme adverse conditions?
How to generate organizational energy: Passion, joy, commitment and perseverance of employees and other stakeholders?
About the Model:
The training model for organizational development is given below in the picturesque form. This model deals in development of purpose, core vales and different need categories of the organization. The various dimensions of organizational culture would also be dealt in detail along with the impact of acculturation process.
Training Time Required: 4 Sessions in 2 full days.